History
Madam Butterfly and the Forging of Japanese Identity
The broad outlines of Japan's historical encounters with western culture are well known. They began with the arrival of Jesuit priests from Portugal in the 16th century, but after 1639 contact all but ceased under the Tokugawa shogunate's new policy of seclusion (sakoku), with limited trade with the Chinese and the Dutch being the only exception. The policy of isolation ended in 1854 and the restoration of imperial rule in 1858 opened Japan to the West. By 1867, artefacts of Japanese culture were on display for the first time at the Exposition Universelle in Paris.
More cultural exchanges followed. Western artists began to incorporate Japanese prints and costumes into their work, as in Vincent van Gogh's Portrait of Père Tanguy (1887), Claude Monet's La Japonaise (1876) and Alfred Stevens' La parisienne japonaise (1872). Japonisme – a term coined by the French critic Philippe Burty in 1872 – was born and it was not limited to painting and the decorative arts. The composer Claude Debussy became fascinated by Japan (the first edition of the score of La mer featured a Hokusai print on its cover) and, to move from the sublime to the ridiculous, Gilbert and Sullivan's operetta The Mikado was first staged in 1885. 
Most of these influences were superficial. They might enrich a painting's surface colours and suggest various exotic allusions, but engaged little with complex Japanese culture and its social character, one that was itself slowly changing under the influence of contact with the West. One work did, however, starkly reveal the underlying dissonances between eastern and western cultures. An opera based on a Japanese subject, Giacomo Puccini's Madam Butterfly was first performed at La Scala, Milan in 1904. Eventually, the opera also became known in Japan, where Puccini's vision was seen as forging (in the sense of dishonestly manufacturing) a view of the Japanese, while subsequent Japanese adaptations and productions of such western music played a part in forging (in the sense of fashioning out of raw material) the seeds of a new westernised Japan. 
Butterfly arrives
That the tale of Butterfly found its way to the West itself was a result of Japan's new 'openness'. The opera was based on a short story by the American writer John Luther Long, written in 1898 and based on the recollections of Long's sister, who had recently been able to spend time in Japan as the wife of a missionary. Long's story also borrowed from a novel of 1887 by Pierre Loti, Madame Chrysanthème, which drew on a liaison Loti had with a geisha in Nagasaki in 1885. Both sources, therefore, contained elements of an 'authentic' Japan. Long's story was turned into a play by the American playwright David Belasco, which Puccini saw in London in 1900.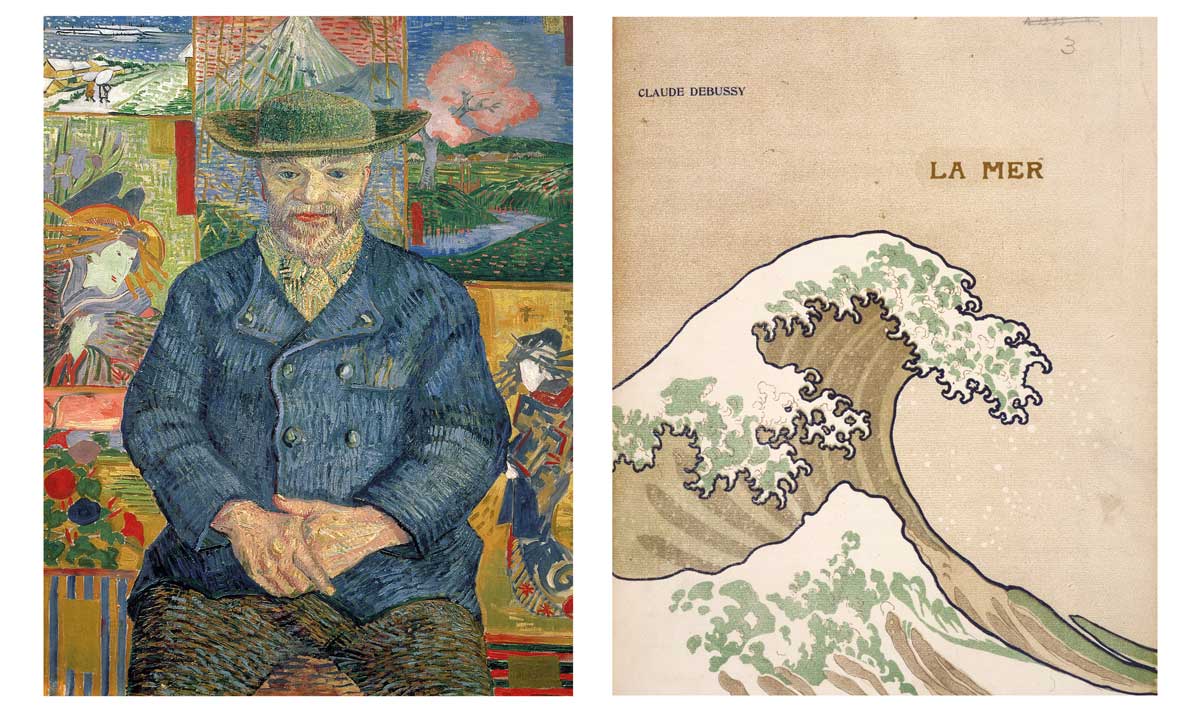 In many ways the plot is a typical colonial story, with all that implies about oppression, exploitation and the imbalance of power. This should have offered a warning about the likely reception of the opera in Japan itself. The story concerns a US naval officer, Pinkerton, stationed in Nagasaki, who marries Cio-Cio san (Butterfly) but has no intention of a long-term commitment. He sets about re-educating the ex-geisha, who speaks only pidgin English, and she falls in love with him. Eventually Pinkerton leaves Japan and the now impoverished Butterfly gives birth to their son. When Pinkerton returns, he is accompanied by his American wife. Butterfly then 'dies with honour' by committing harakiri, a traditional suicide method employed by the honourable Samurai class. This ending, found only in Belasco's play, suited Puccini well, as did the drama's concentration on Butterfly's character and emotions during her final day. Whether such a portrayal was in keeping with the true nature of Japanese womanhood is an issue that has arisen more than once in the critical afterlife of the work. 
Butterfly travels east
The reception of Madam Butterfly in Japan should be considered alongside the history of the country's assimilation of western music. This in itself is a remarkable story, since indigenous Japanese music, with its own instruments, scales and genres, is so different from its western counterpart. Although music is often dubbed a 'universal language', among the arts it is one of the most stylistically differentiated globally.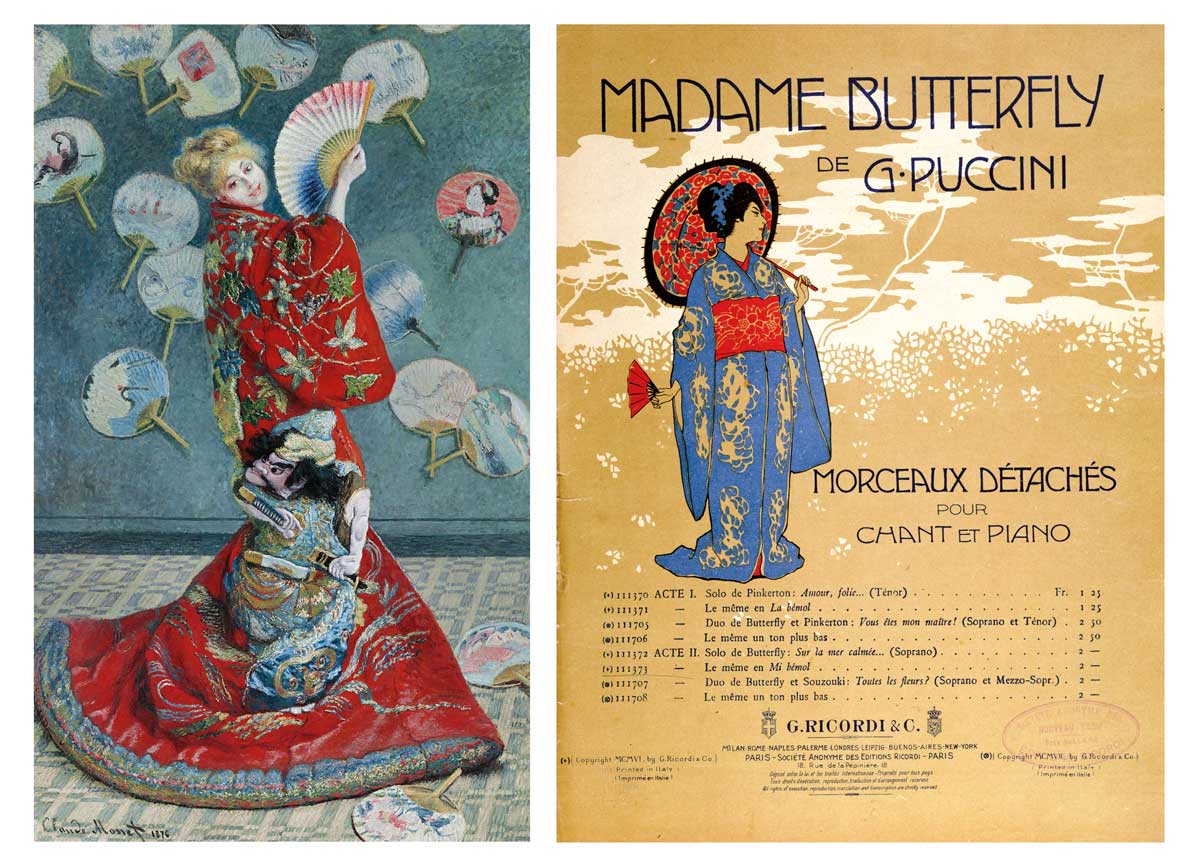 The earliest known critical Japanese reactions to Madam Butterfly are from 1906, when Henry Savage's Grand Opera Company gave a performance (in English) at the Garden Theatre, New York. In the audience were two Japanese spectators: Seiichirō Mori, a businessman and writer, and Shūichi Takaori, a music critic and theatre director. Takaori was delighted with the music, which incorporated some Japanese tunes, and he thought such a mixture had much to offer the future of his native country's music. Mori was more concerned with authenticity: 'This work may be good for Japanese women as it introduces to the Americans their chastity and virtue, but the staging was just ludicrous: flowers were all in full bloom regardless of their respective seasons; a Shintoist shrine gate led towards a Buddhist temple; and the costumes were just like those worn by prostitutes.' 
Puccini's Madam Butterfly had premiered just a few days after Japan had declared war on Russia. Japan was aware that it needed to modernise, take on progressive elements from western society and establish itself politically. At the start of the Russo-Japanese War, Japan was still regarded as something of an 'adolescent boy' by the international community; a cartoon in the Dutch magazine the Amsterdammer published in 1903 shows John Bull and Uncle Sam coercing a Japanese child into stealing a Cossack's chestnuts. Yet the unexpected victory against Russia altered the West's view of Japan; it was now mature enough to be potentially threatening, a 'yellow peril'. Takaori and Mori's presence at the opera in New York was another sign of change: Japanese men now went to the opera, wore western clothes, learnt about other cultures and were more than willing to defend their own – in this case, the self-effacing and submissive attributes of their women. (Japanese women did not obtain the vote until a new constitution was imposed on the country by the United States after the Second World War – another instance of the forging of Japanese society.)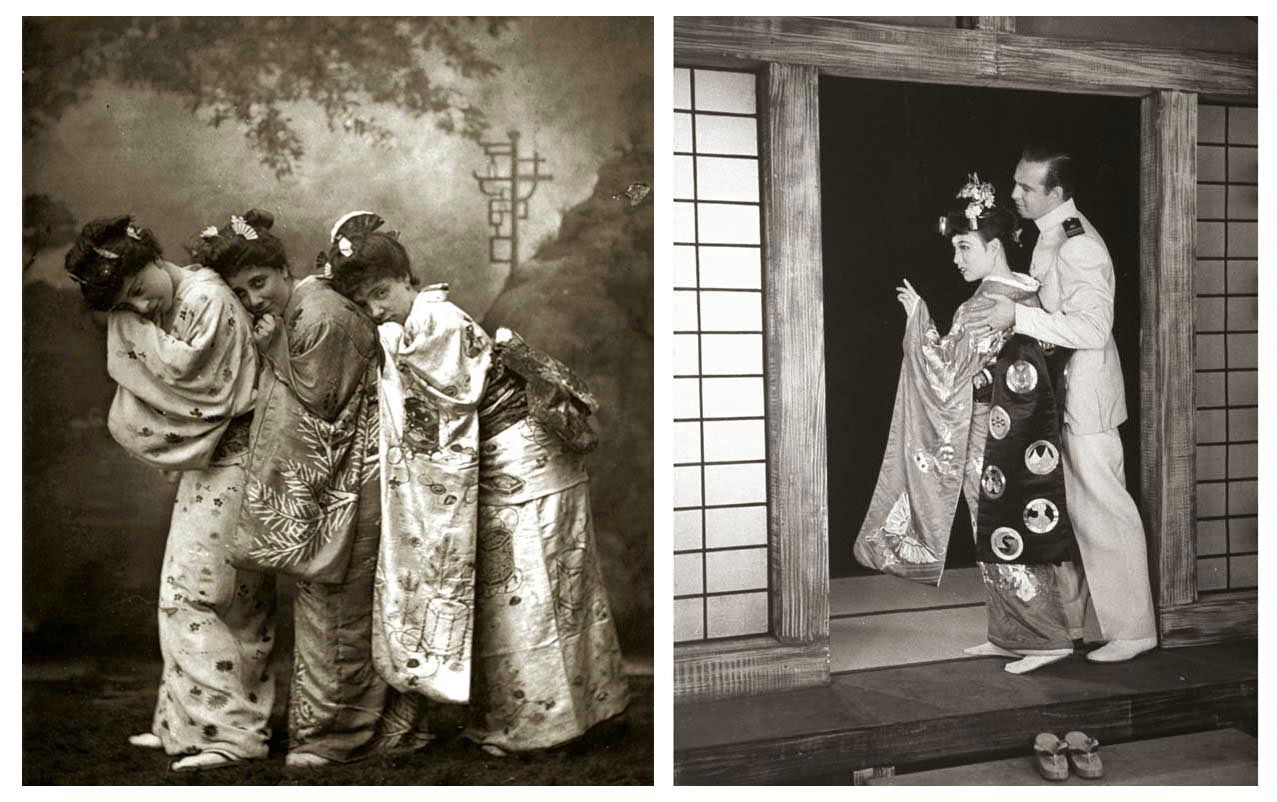 The 'westernisation' of arts and culture in Japan proceeded rapidly. The Tokyo Music School, the country's first conservatoire of western-style music, opened in 1890. Another major development took place in 1911 with the inauguration of the Imperial Theatre (Teikoku Gekijō). It was built in the western style, equipped with an orchestra pit, and was affiliated to western music training centres taught by German musicians. Unlike other Japanese theatres, which tended to be little more than simple tents with rugs on the ground, it had proscenium seating. Moreover, it was in this theatre that Shūichi Takaori (the critic and director who saw Madam Butterfly in New York), presented the Japanese premiere of excerpts from the opera in 1914. 
The title role was sung by Takaori's wife, Sumiko, who claimed to have studied with Geraldine Farrar in America. But the performance was not a success. The audience objected to the representation of Japanese women, who, one audience member noted, were presented in a manner 'similar to those of ill-repute found in places like Yokohama. Why did they dare to present something like this in the Imperial Theatre?'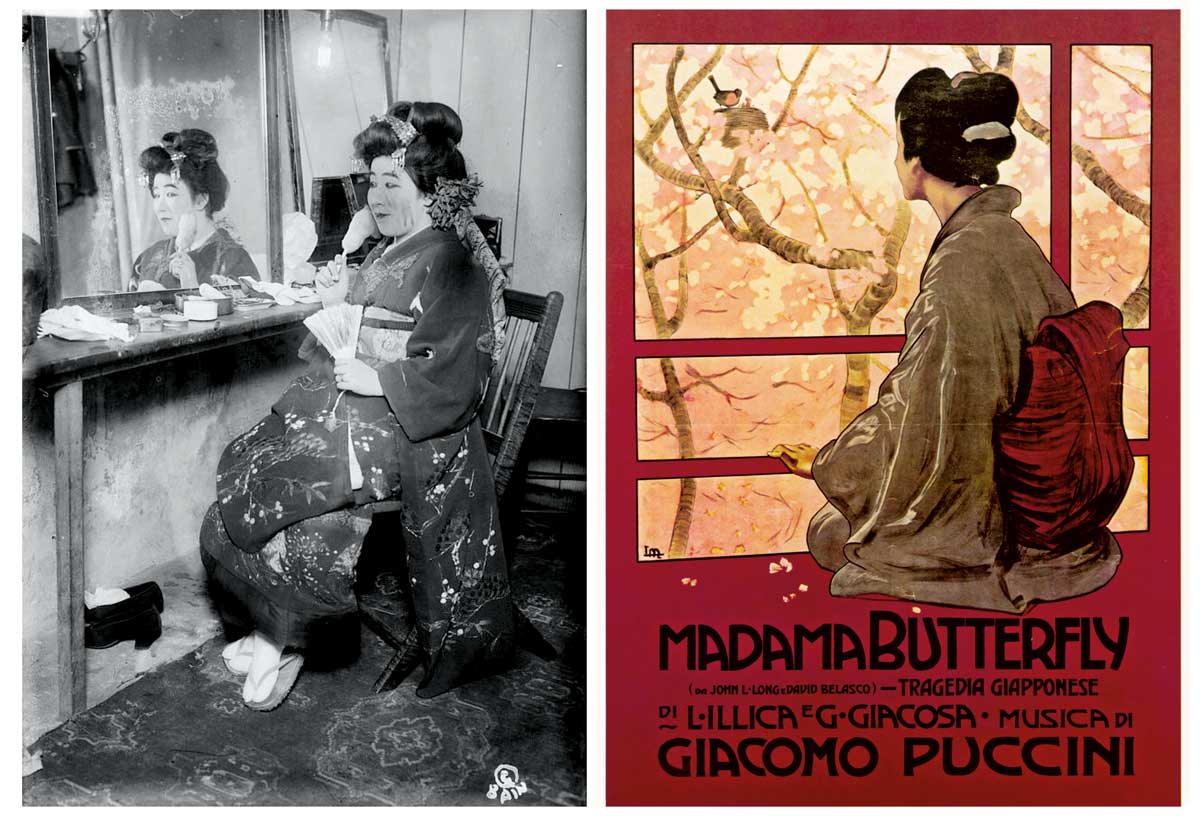 It was not the 'alien' music that disturbed the Japanese audience, but the threat to traditional hierarchies between men and women. Later, in the 1930s, feminist writers such as Ichiko Kamichika and Akiko Yosano criticised the opera for promoting a 'victim' like Butterfly as something of a Japanese 'paragon'. Somewhat ironically, Butterfly thus proved to be an effective catalyst for the emergence of a new model of womanhood in Japan. Moreover, the Japanese themselves gradually began to find Madam Butterfly exotic and alien. The opera represented a past Japan, not the modernised version which was already beginning to emulate and even surpass the West.
Authentic Japan
As Japan was becoming disenchanted with aspects of Madam Butterfly, the West gained an enthusiasm for what it perceived as its cultural authenticity. The San Carlo Opera Company, based in Boston, routinely contracted Japanese sopranos such as Tamaki Miura, Nobuko Hara and Hisako Koike to sing the role of Butterfly. For many years, this was the only way for Japanese female singers to make their debut on the western stage. Only relatively recently have Far Eastern women begun to become prominent on the world stage as soloists across the whole range of western music. 
In 1948, shortly after Japan's surrender in the Second World War, the US authorities occupying Japan requested that the Fujiwara Opera Company perform Madam Butterfly in the Imperial Theatre, in what it fondly believed would be 'the most authentic manner'. The same company was also invited to perform a 'bilingual' Madam Butterfly (where the Japanese sang in their own language) at the New York City Opera in 1952-53. Puccini, of course, would not have recognised such performances as an authentic production of his opera. His Madam Butterfly contained a number of misunderstandings and misrepresentations of Japanese culture, falling foul of what we would now recognise as cultural appropriation.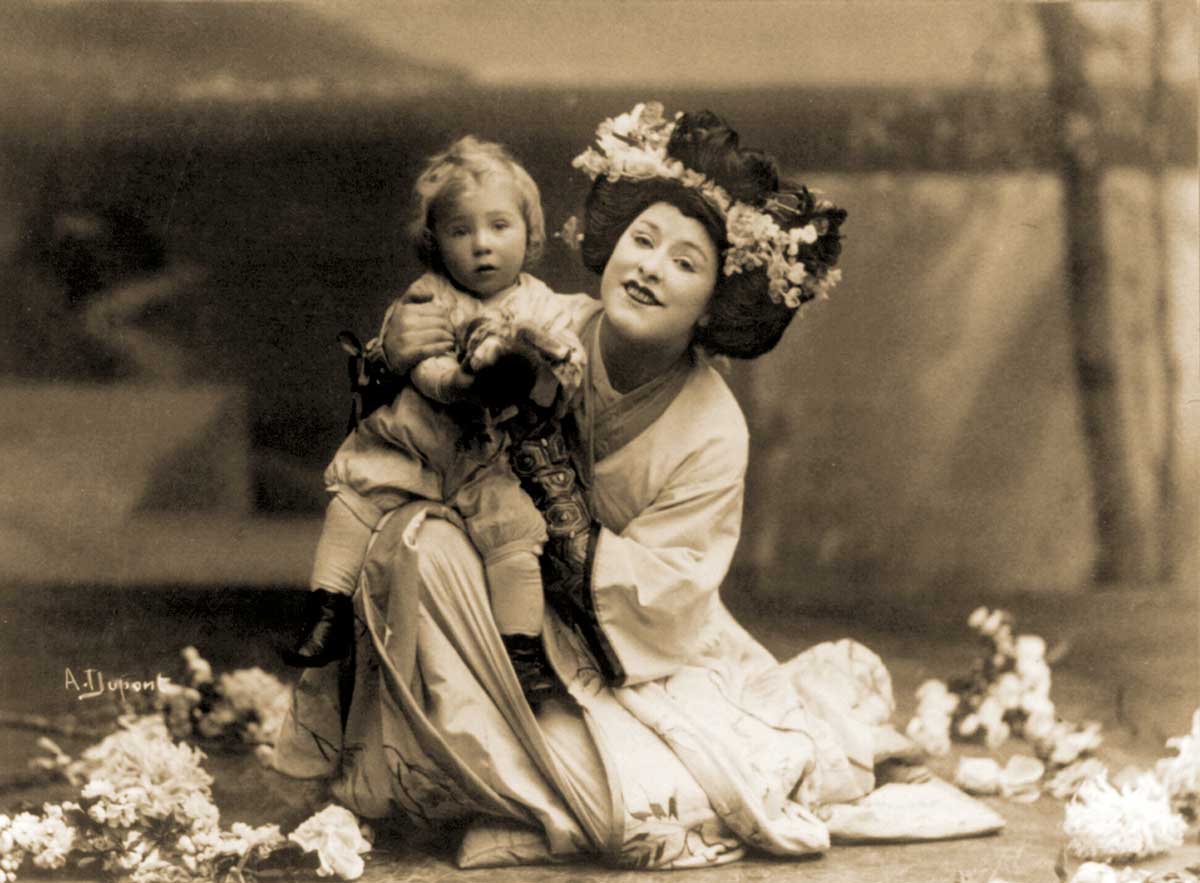 Unsurprisingly, the total number of Madam Butterfly performances in Japan to date is remarkably fewer than those of other canonical works such as Verdi's La Traviata, Mozart's Magic Flute or Bizet's Carmen. Interestingly, the popularity of Carmen in Japan owed much to the fascination of the Japanese audience with the titular character, a woman of loose morals who, they assumed, was typical of western society. They failed to understand that Carmen, as a gypsy, is an exotic outsider, far from the western norm. Just as the West had focused on a distorted and simplistic notion of Japanese womanhood embodied in the 'character-cypher' of Butterfly, so the Japanese did the same in reverse with their understanding of Carmen. 
Such ironies and misunderstandings of cultural appropriation and stereotyping would eventually be dissolved as Japan became fully integrated into the global community of nations. And Puccini's Madam Butterfly played a crucial part in that process, a part out of all proportion to its status as a three-act opera. 
Naomi Matsumoto is Lecturer in Music at Goldsmiths, University of London.